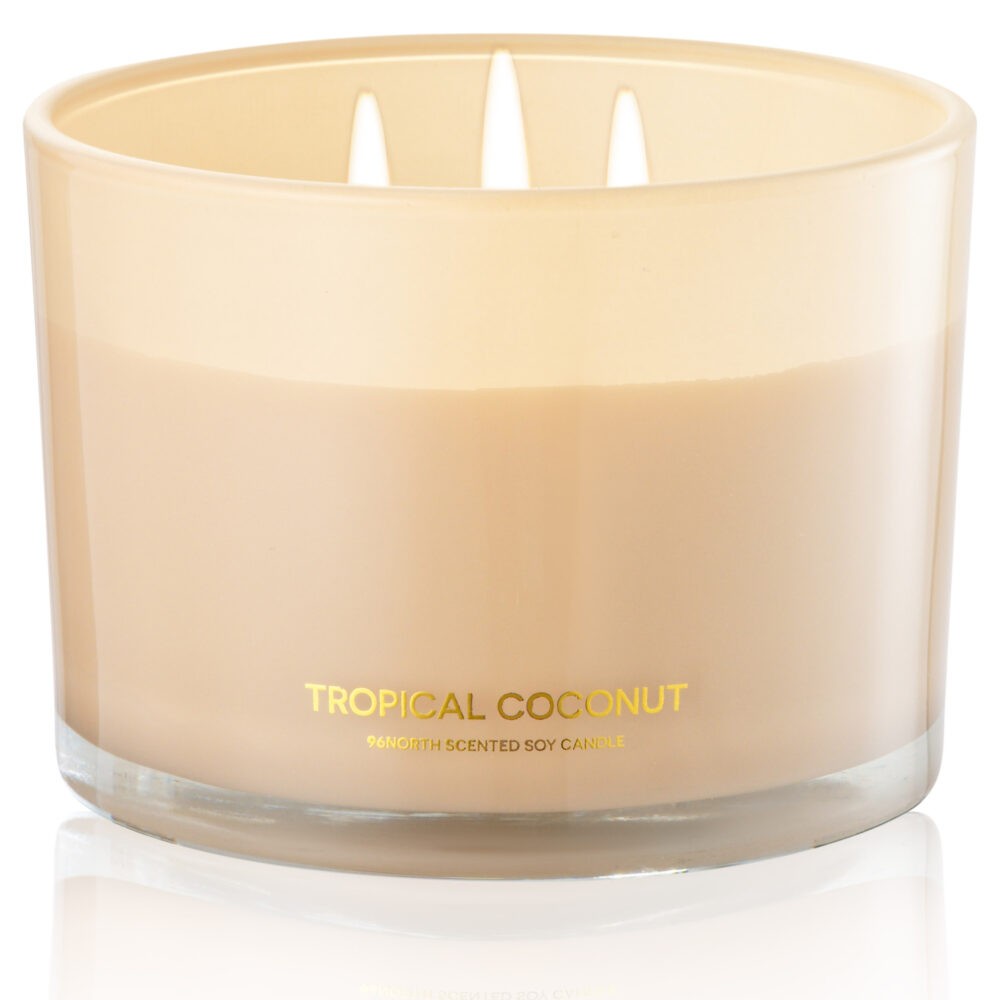 Tropical Coconut
4.79 (2

24

customer reviews)
Let yourself be carried to a place of pure peace and tranquillity, where earthy scents of dense rainforest foliage mingle with fragrant exotic flowers. There, the humid air is heavy with the sounds of chirping birds and the sweet aromas of sun-ripened coconut.
Secure transaction
Money-back guarantee
Free shipping
| | |
| --- | --- |
| Scent | Fruity |
| Candle Type | 3-wick soy candle |
| Burn Time | Up to 50 hours |
| Dimensions Measures | 4 1/4″ D x 3 1/8″ H |
| Total Weight | 26.1 oz. | 740G |
| Net Weight | 11.6 oz. | 330G |
A hint of buttery rum and aromas of fresh coconut milk lie in the air. As you take in the alluring scent of 96NORTH's Tropical Coconut, its aromas evoke the carefree bliss of endless beach days.
FRAGRANCE NOTES
At the very top of this dreamy fragrance, you can smell the crisp, green perfume of new banana leaves. Middle notes of toasted coconut slowly turn your space into a tropical paradise, luring you to unwind in the warm, welcoming atmosphere.
The creamy, decadent base notes of coconut milk and buttered rum balance out the composition, and remain in the air long after the candle has been extinguished.
TOP NOTES
Tropical Banana
Leaves
MIDDLE NOTES
Toasted Coconut
BASE NOTES
Coconut Milk, Buttery Rum
All our beautiful scents are created entirely from natural ingredients without the use of unsafe additives or synthetic ingredients.
Banana Leaves.

Banana leaves have a fresh, green aroma that can help to improve focus and concentration. They are also believed to passively protect the skin and help disinfect surfaces in the home thanks to their antimicrobial properties.

Coconut. The sweet, tropical aroma of coconut can have calming and relaxing properties.
This exquisitely crafted candle features an elevated monochromatic glass vessel with gold foil accents. It comes with a soft close lid and an artisan-designed gold foiled gift box.
At 96NORTH, we believe that responsible products can be both beautiful and eco-conscious.
For this reason, we only use 100% soy wax and lead-free cotton wicks while making our candles. Soy wax is a renewable resource that burns cleanly without producing harmful fumes and can be entirely composted.
The glass vessel the candle comes in not only makes a beautiful centrepiece for your home, but can easily be recycled or reused.
Please adhere to the advice below to safeguard your safety and prolong the life of your candle:
Keep within sight while burning
Do not burn near or on anything that could catch fire
Keep away from children and pets
Do not place any objects in the candle
Burn at room temperature
Keep burning candle away from drafts, vents, fans, and air currents
Keep at least 6 inches (155 mm) of space between burning candles
Do not burn for more than 3 hours at a time
Allow to cool completely before re-lighting
Keep wax clear of trimmed wicks, matches, and debris
24 reviews for
Tropical Coconut