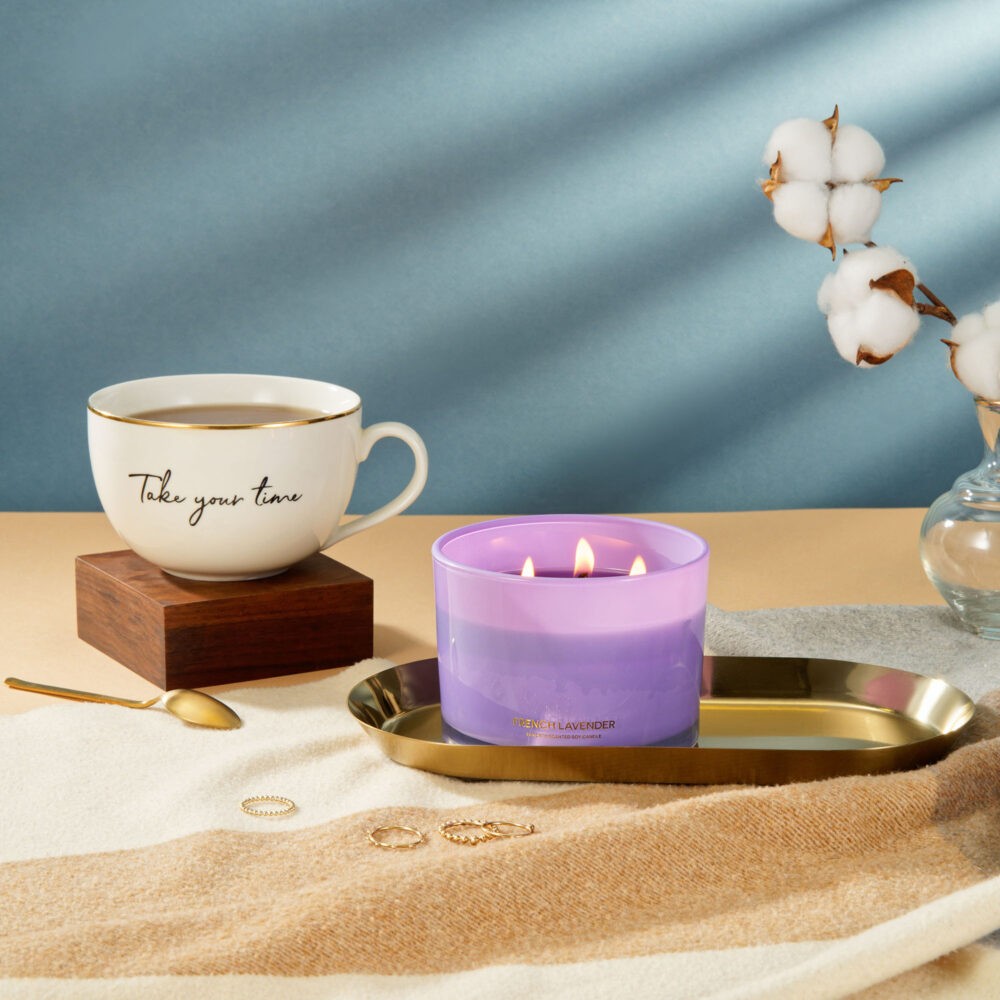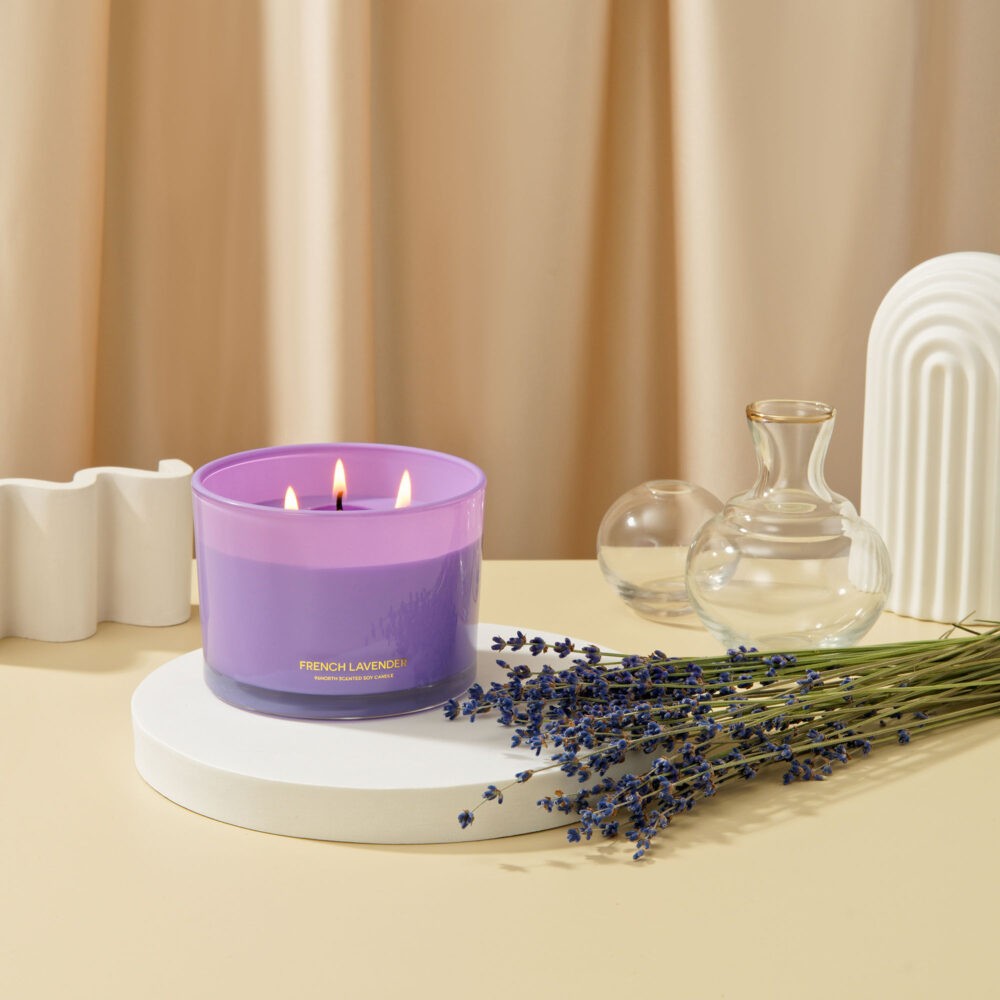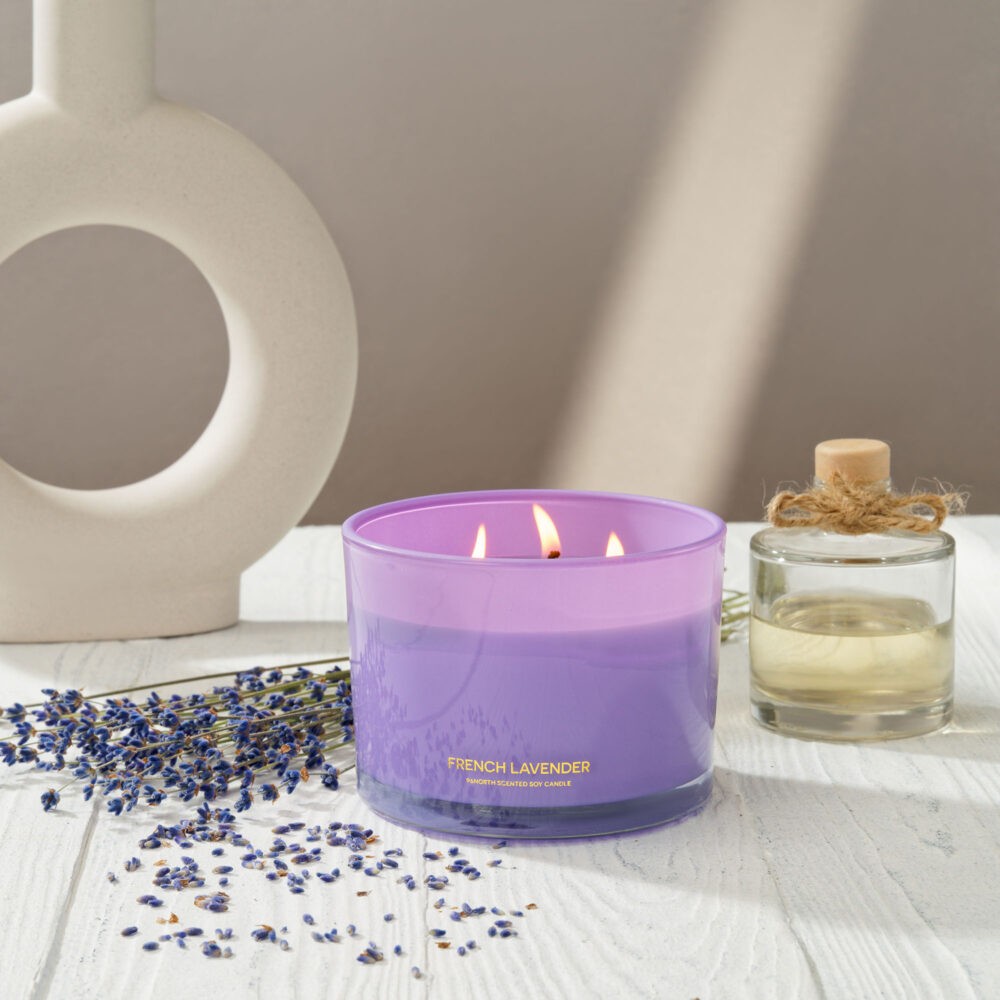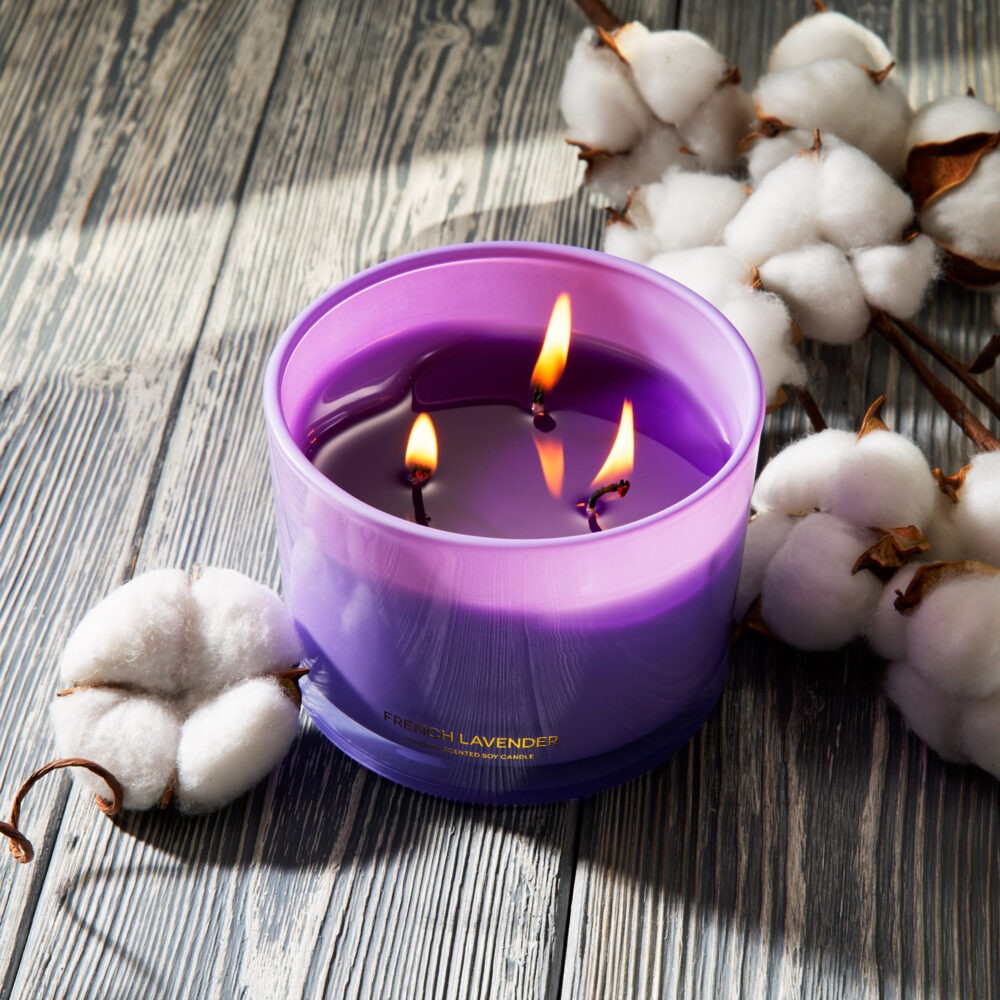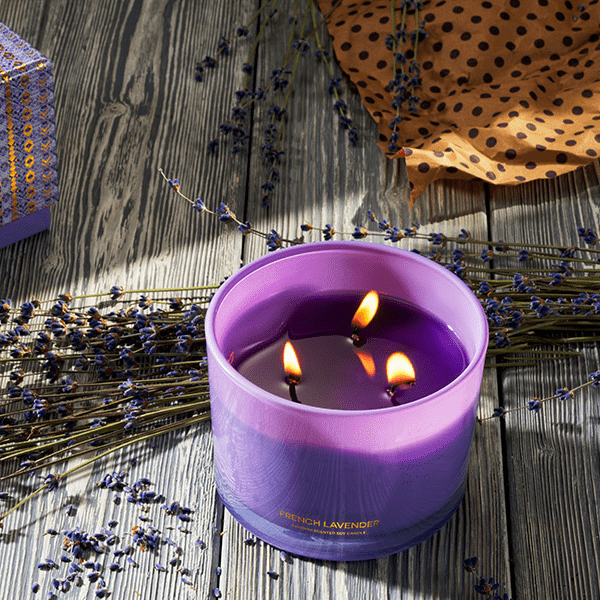 Lavender Scented Candles
Soft French lavender with subtle hints of sandalwood and eucalyptus radiate a sense of calmness and serenity.
Dimensions Measures
4 1/4″ D x 3 1/8″ H
Total Weight
26.1 oz. | 740G
Net Weight
11.6 oz. | 330G
Description
Lavender Scented Candles
Let 96NORTH's French Lavender scented candle transport you to sunny, warm Provencal fields. Be enchanted, from the moment you light the candle, by the premium scent of lavender, a delicate floral scent, herbal and evergreen woodsy at the same time. 
The calming aroma of French Lavender is perfect for relaxing your mind and body after a long, stressful day. Recreate a spa day with the unique blend of lavender, sandalwood and eucalyptus pure essential oils.
Imagine yourself in a field filled with lavender flowers blowing gently in the breeze of the South of France. A fresh, crisp summer scent can fill your room at any time of year.
The luxurious 3-wick 100% soy wax candles provide up to 60 hours of burn time, elevating your soothing fragrance journey and enhancing the peaceful and spa-like feel. While the monochromatic glass accented with gold foil adds an element of elegance, making this candle a beautiful gift for yourself, friends and family.
Benefits of Lavender Scented Candles You Should Know
Revitalizing and calming
If your energy levels are low and your mind is racing with unsettling ideas, the natural aroma of lavender candles will relieve stress and make you feel more energised and concentrated.
So, if you want to take a more natural way of relieving stress, light up a lavender-scented candle, put your feet up, close your eyes and let the sweet soothing aroma calm your nerves.
Natural sleep inducer
Not only can lavender ease the worries of the day away, but it can also help you fall asleep more quickly and stay asleep longer and deeper.
As you prepare for the night, light your candle in a safe part of the room and allow yourself to drift into a state of relaxation and comfort. Enjoy your much-needed deep sleep and wake up rejuvenated. 
Helps eliminate odor
Lavender-scented candles are also very effective in creating a more inviting space by removing unpleasant smells from cooking, pet odors, stuffy rooms, and smoke. It can even repel certain pests because of its distinct aroma.  
Eases headaches and migraines
Recent research shows that three months of lavender aromatherapy can help reduce the intensity and frequency of migraines.
To help relieve your symptoms and improve your productivity at work, you can light lavender-scented candles in your office during the day. At home, lighting a candle or two also goes a long way in easing migraines without any side effects.
Relieves PMS pain and discomfort 
Many women dread their monthly cycles because of the physical pain and discomfort and the emotional and mental stress it comes with. 
Lavender aromatherapy has been shown to be effective in reducing PMS symptoms; it positively affects our mental processes, influencing the parasympathetic nervous system.
In the right amounts, women can get past mood swings and instabilities and live happier and more fulfilled lives.
So, are you ready for a pleasant aromatherapy experience? Light up the lavender-scented candles and immerse yourself in their comforting aroma, bringing calm and serenity to your body.
Candle Care
To help ensure optimal results when burning 96NORTH candles, please follow the tips listed below. Care tips help to ensure your safety while burning candles, in addition to providing you with the candle longevity indicated by the expected burn time. Candle care as well as environmental factors do impact the burn time experienced with each candle.
Candle Safety
do not burn the candle near or on anything that could catch on fire
the burning candle should always be kept within sight
keep children and pets away from the burning candle
do not put any objects in the candle
only burn the candle in a well-ventilated room
burn the candle at room temperature (65-75 degrees °F, 18-24 degrees °C)
keep the candle away from drafts, vents, fans, and air currents
when burning multiple candles, keep at least 6 inches (155 mm) of space between the candles
the candle should not be burned for more than 3 hours at a time
before relighting the candle, allow it to cool completely
keep the candle wax clear of all wick trimmings, matches, and debris
Reviews
32 reviews for
Lavender Scented Candles