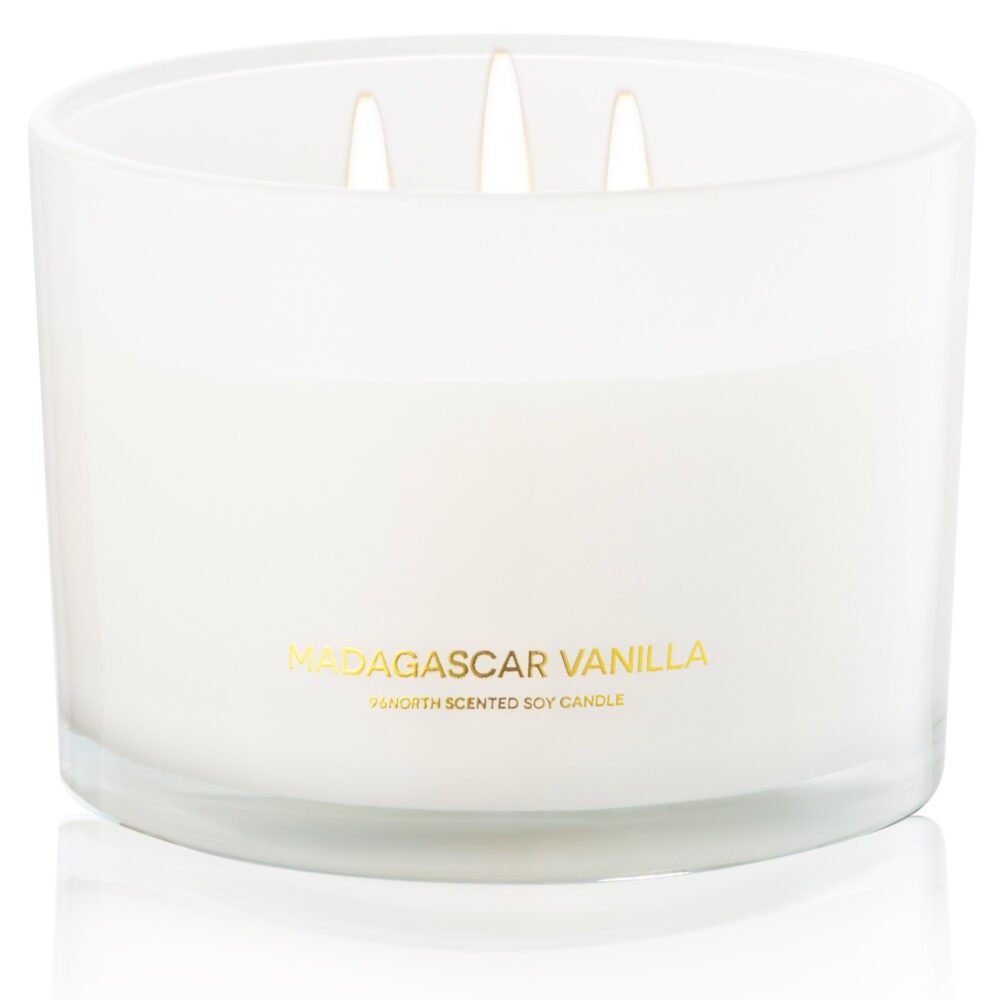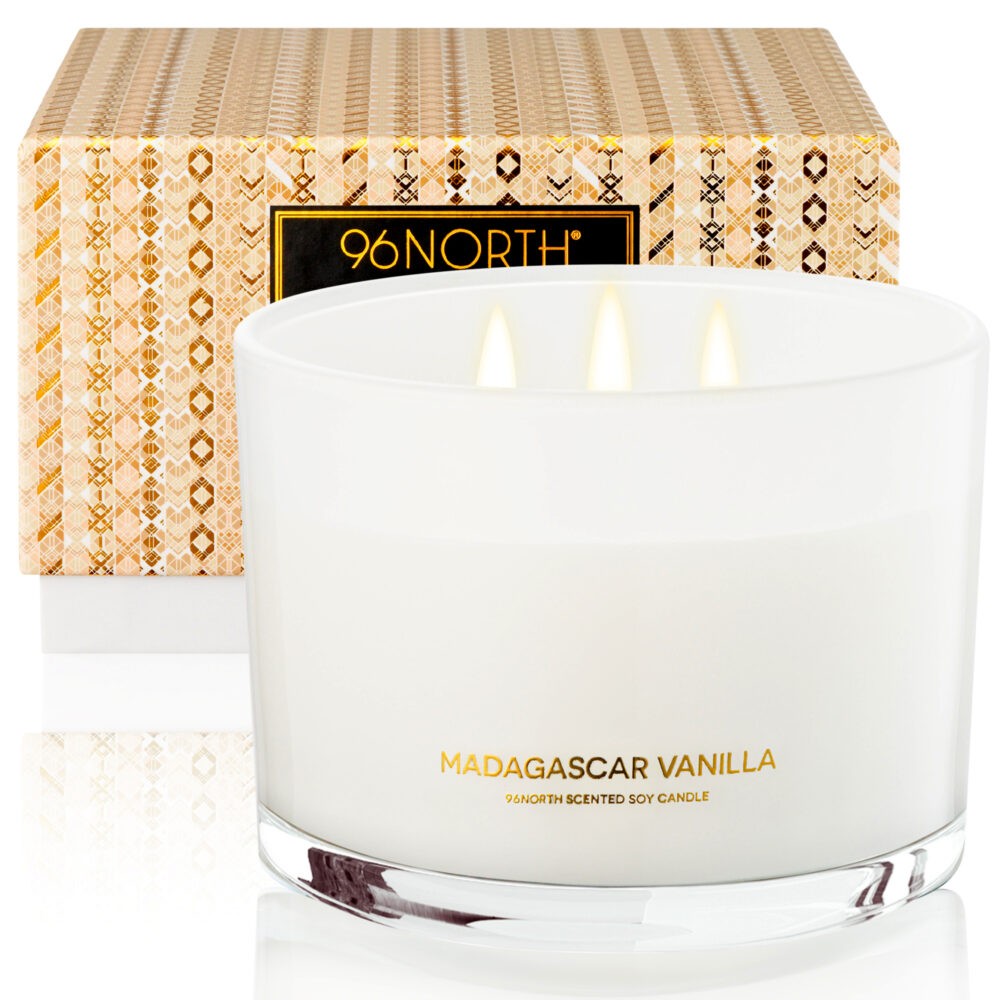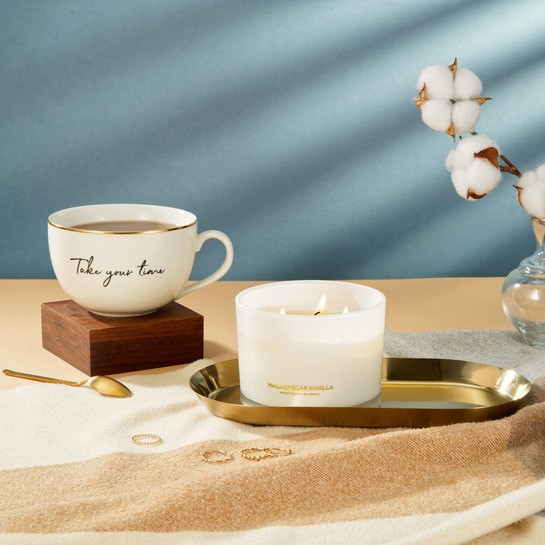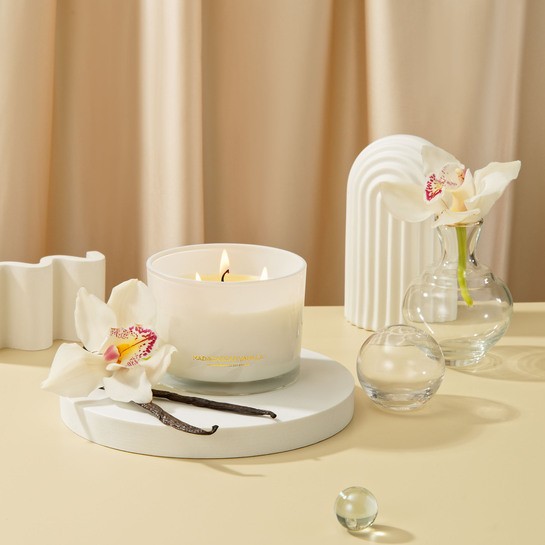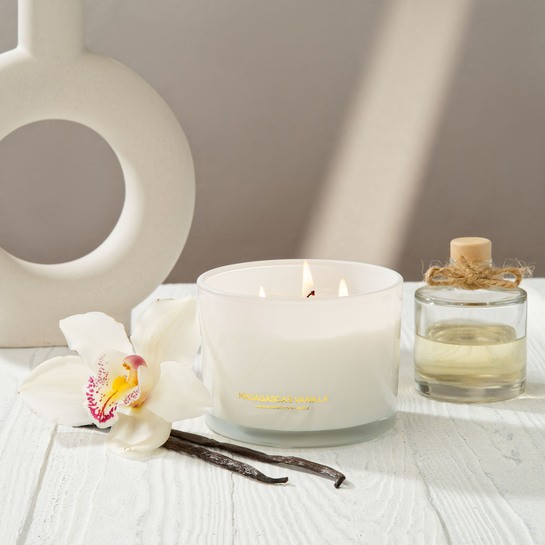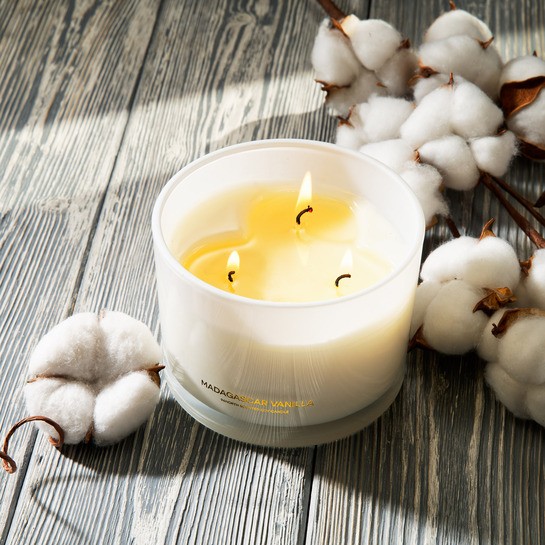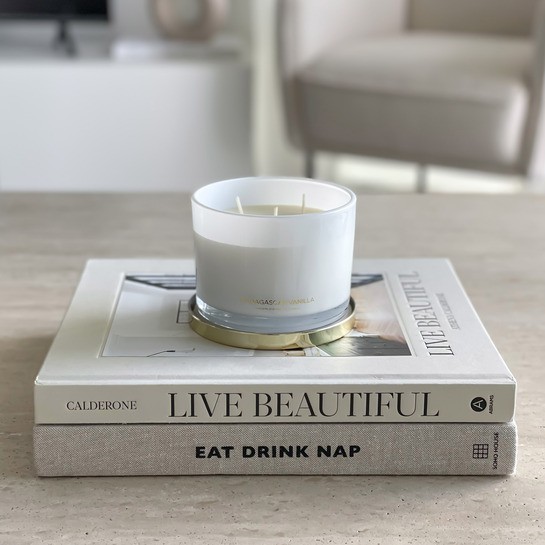 Vanilla Scented Candles
A lush blend of rich Madagascar vanilla, fresh cream, and a hint of bourbon elevates a much-loved classic fragrance with an exotic, upscale flair.
Dimensions Measures
4 1/4″ D x 3 1/8″ H
Total Weight
26.1 oz. | 740G
Net Weight
11.6 oz. | 330G
Description
Vanilla Scented Candles
There are plenty of reasons many people love vanilla. For starters, it smells like freshly baked goodies. But when the traditional sweet scent is blended with the right notes, it's transformed from being dessert-like to something different, whether crisper, brighter, or more stimulating.
The classic yet beautifully subtle scent of vanilla essential oils will transform your home to instant Zen. Our premium 3-wick soy vanilla scented is an elegant but effective way to enhance the mood of any room and create a harmonious environment. 
As you indulge in the warm glow, you can feel the aromatic fragrance calm and refresh your senses. The candle is made of 100% soy wax, so you won't be exposed to hazardous fumes while you relax and enjoy natural stress relief. 
There is no doubt that vanilla's delightful aroma and health-enhancing benefits make it a much sought-after ingredient these days. It has been proven to reduce anxiety and make people happier and more relaxed.
Benefits of Vanilla Scented Candles
Almost everyone has a soft spot for vanilla. And for a good reason, its versatile neutral scent pleases most people. The sweet aroma conjures up happy memories of summer days enjoying ice cream and eating home-baked goodies. 
However, vanilla-scented candles can do much more than enhance any space's smell and ambiance. While smelling great, vanilla is full of health benefits too! From refreshing to calming and everything in between, below are some of the many ways vanilla scented candles benefit your well-being.
Boosts overall mood 
Vanilla scented candles are great mood boosters as the scent stimulates feelings of relaxation and joy. They make your home smell like a bakery and boost your mood.
So if you're feeling a little down or upset, light up a vanilla scented candle to lift and improve your mood.
Improves immunity
Vanilla's antioxidant and soothing properties can help fight infections and reduce inflammation. That's a more enjoyable way to achieve wellness! 
Relaxes body and mind
Vanilla's essential oils have a relaxing and calming effect on the brain and the nerves, relieving anxiety and restlessness. An excellent aroma to burn to get rid of stress after a long, challenging day at work or any time.
Creates the ideal ambience
Vanilla scented candles offer a delicious scent to set the mood for date night! It smells fantastic and sets the scene for that intimate night just right!
Best Vanilla Scented Candle from 96NORTH
Madagascar Vanilla
Our vanilla scented candle features a luxurious blend of Madagascar vanilla and fresh cream with hints of bourbon, elevating the classic scent.
It gives any room a comforting feeling by evoking sugar cookies in the oven, warm flavored coffee, and luscious perfumes. The monochromatic glass vessel with gold foil accents adds an opulent touch as the candle flickers with an exquisite immaculate glow. 
With the highest quality essential oil fragrances and premium cotton wicks, the 100% soy wax blend burns clean, smokeless, and consistently for up to 60 hours without producing harmful fumes.
You deserve to indulge in a much-needed self-care routine at the end of an extremely long, demanding day. Whatever is happening in your life, you can be sure that a vanilla-scented candle will make it better one way or another!
Candle Care
To help ensure optimal results when burning 96NORTH candles, please follow the tips listed below. Care tips help to ensure your safety while burning candles, in addition to providing you with the candle longevity indicated by the expected burn time. Candle care as well as environmental factors do impact the burn time experienced with each candle.
Candle Safety
do not burn the candle near or on anything that could catch on fire
the burning candle should always be kept within sight
keep children and pets away from the burning candle
do not put any objects in the candle
only burn the candle in a well-ventilated room
burn the candle at room temperature (65-75 degrees °F, 18-24 degrees °C)
keep the candle away from drafts, vents, fans, and air currents
when burning multiple candles, keep at least 6 inches (155 mm) of space between the candles
the candle should not be burned for more than 3 hours at a time
before relighting the candle, allow it to cool completely
keep the candle wax clear of all wick trimmings, matches, and debris
Reviews
20 reviews for
Vanilla Scented Candles