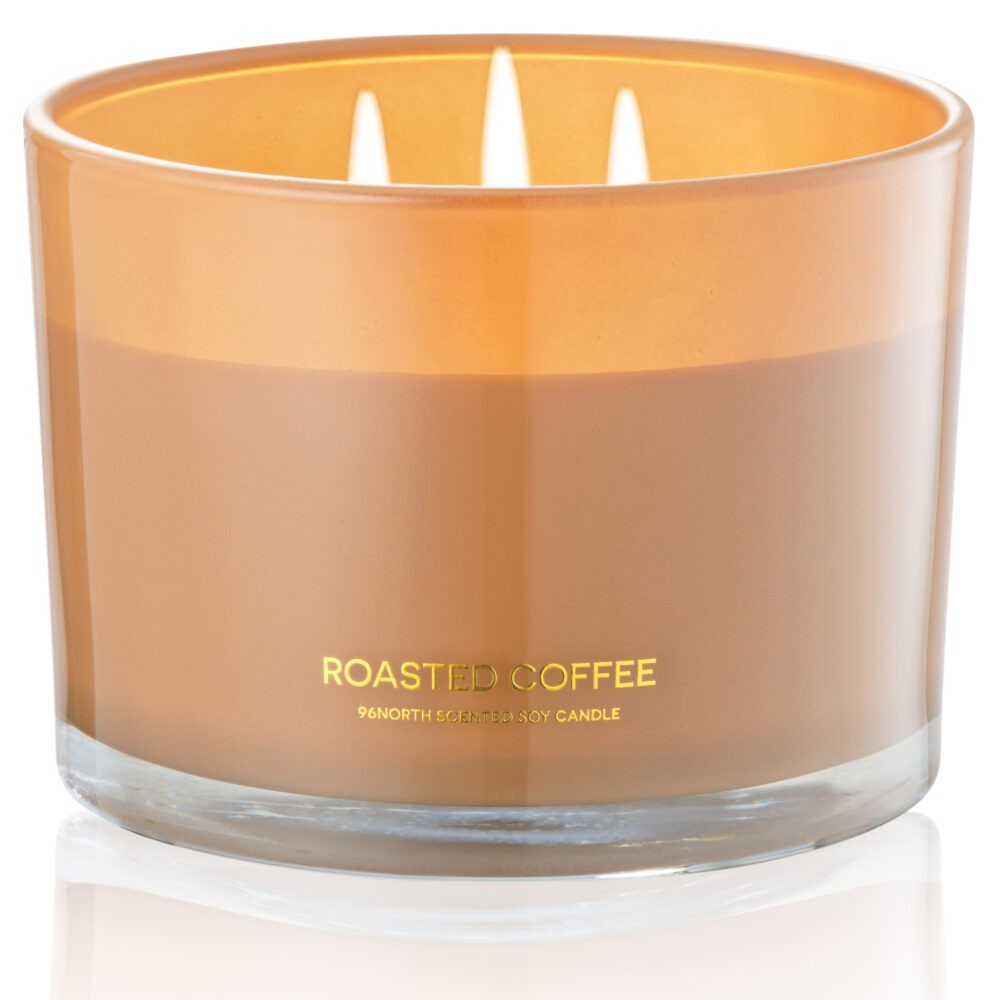 Roasted Coffee
4.32 (2

28

customer reviews)
Close your eyes and let yourself be taken to where the air is heavy with freshly roasted coffee and the sweet scent of baked goods. Feel the anticipation of the invigorating morning brew as you step into your favourite café.
Secure transaction
Money-back guarantee
Free shipping
| | |
| --- | --- |
| Scent | Spicy |
| Candle Type | 3-wick soy candle |
| Burn Time | Up to 50 hours |
| Dimensions Measures | 4 1/4″ D x 3 1/8″ H |
| Total Weight | 26.1 oz. | 740G |
| Net Weight | 11.6 oz. | 330G |
This 96NORTH candle marries the tempting aromas of roasted coffee with hints of cocoa and cream into one comforting yet enlivening home fragrance.
FRAGRANCE NOTES
This fragrance is rich, complex, and utterly irresistible. The top notes of whipped milk envelope a soft, creamy aroma, while roasted espresso beans add body and depth to the scent.
Base notes of toasted cacao provide a warm, sweet finish to this tantalizing scented candle.
TOP NOTES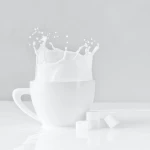 Whipped Milk
MIDDLE NOTES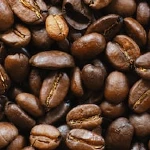 Roasted Espresso Beans
BASE NOTES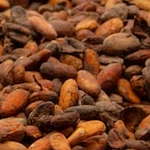 Toasted Cacao
All our beautiful scents are created entirely from natural ingredients without the use of unsafe additives or synthetic ingredients.
Espresso. The earthy scent of roasted espresso beans can help stimulate energy, alertness, and attention. The scent of coffee is also believed to enhance mood and boost overall happiness.
Cacao. Cacao has a warm, pleasant fragrance that may alleviate tension and anxiety.
This exquisitely crafted candle features an elevated monochromatic glass vessel with gold foil accents. It comes with a soft close lid and an artisan-designed gold foiled gift box.
At 96NORTH, we believe that responsible products can be both beautiful and eco-conscious.
For this reason, we only use 100% soy wax and lead-free cotton wicks while making our candles. Soy wax is a renewable resource that burns cleanly without producing harmful fumes and can be entirely composted.
The glass vessel the candle comes in not only makes a beautiful centrepiece for your home, but can easily be recycled or reused.
Please adhere to the advice below to safeguard your safety and prolong the life of your candle:
Keep within sight while burning
Do not burn near or on anything that could catch fire
Keep away from children and pets
Do not place any objects in the candle
Burn at room temperature
Keep burning candle away from drafts, vents, fans, and air currents
Keep at least 6 inches (155 mm) of space between burning candles
Do not burn for more than 3 hours at a time
Allow to cool completely before re-lighting
Keep wax clear of trimmed wicks, matches, and debris
Coffee Scented Candles
For many people, starting the morning on a positive note starts with the familiar aroma of coffee filling the air. There's nothing like the smell of a freshly brewed pot of coffee to pick you up, whether you're an early bird or a resolute night owl.
Many, if not all, coffee drinkers love the smell of a good cup of joe in the morning simply because the aroma of coffee boosts alertness and memory (as if we needed another reason to savor our morning cuppa!). Encompassing the depth of a rich fragrance of freshly roasted espresso beans, with notes of toasted cacao delivering a full-boded aroma reminiscent of their go-to coffee shops.
So it is no surprise that coffee lovers gravitate towards candles that mimic their favorite warm, energizing morning brew.
With 96NORTH's Roasted Coffee Candle, you can indulge your senses with its rich, dark, roasted espresso beans and smooth pairing of whipped milk and toasted cacao. The candles are made up of 100% soy wax infused with essential oil fragrances; you can feel like you're drinking a cup of coffee in the middle of the day.
It comes in a beautiful package of an artisan-designed, reusable decorative box, perfect for any holiday or special event like birthdays, Mother's Day or a thank-you gift to anyone.
Why choose coffee bean scented candles made from soy wax?
Unlike other types of wax, soy wax burns without creating soot or smoke. Soy melts and cools slower than paraffin alternatives, offering a surprisingly clean burn and more burn for your money.
Soy-based candles offer soft, natural lighting that can help set a pleasant mood in any room, whether you want to enjoy a little "me-time" with your favorite book in the bubble bath or have friends for dinner. With none of the dangers associated with breathing in toxic fumes from paraffin wax.
These are not only a safe and natural alternative to petroleum-based paraffin but also non-toxic and eco-friendly. If you're concerned about indoor air quality, soy wax with an essential oil-based fragrance will give you the cleanest burn.
Unlike paraffin which may have harmful effects on health if exposed long-term, vegetable-based candles like soy candles don't release any pollutants or produce unsightly black soot. With prolonged use, soy candles create a fine white residue that's easy to clean. You can wipe off any surface with warm, soapy water.
Switching to soy wax candles could be a great alternative to candlelight because they are renewable and biodegradable.
How long do 3-wick coffee scented soy candles last? 
Three wicks extend the life of a candle because rather than tunneling straight down the center of the candle when lit like how it goes with the one wick, the wax pools across the entire candle when the three flames get hot enough.
96NORTH's 3-wick fresh brewed coffee scented candles can burn for up to 60 hours, giving you a brightly lit ambience with a more intense aroma.
96NORTH can give you the best coffee-scented candles for your budget by producing top-tier, coffee-scented soy candles you'll adore. Explore our complete collection to infuse a delightful, decadent aroma into your space.
28 reviews for
Roasted Coffee